DIRT BIKE & SCOOTER RECEIVER HITCH CARRIERS
Take your dirt bike on extended trips or travel to racing events using a dirt bike carrier from MagnetaTrailers.com. We offer two different options to suit your needs. You can purchase a fantastic dirt bike hitch from our business that features an adjustable frame that cranks down to the ground level for easy loading. Furthermore, our dirt bike rack options include a baked on powder coat finish.

When you purchase a dirt bike carrier, you'll be able to take your bike to any location without worrying about making the room to haul it. These selections are perfect for people who want to participate in a race or take their dirt bikes out with them on vacation. Once you purchase a dirt bike hitch, you'll wonder how you ever lived without it! Take a look at our selection below and discover how a dirt bike rack can change the way you transport your bike.
#RHDC1 DIRT BIKE - MOTORCYCLE & SCOOTER CARRIER
#RHDC1 SHOWN CRANKED DOWN TO GROUND LEVEL
Easy 1 person loading, Unit cranks down to ground level for easy loading, no loading ramps to deal with, Tough heavy duty 2 1/2" & 2" square steel tube construction and is powder coated black. 4 - tie down lugs included, 6" wide by 80" long cycle carry channel, Channel can be mounted facing left or right.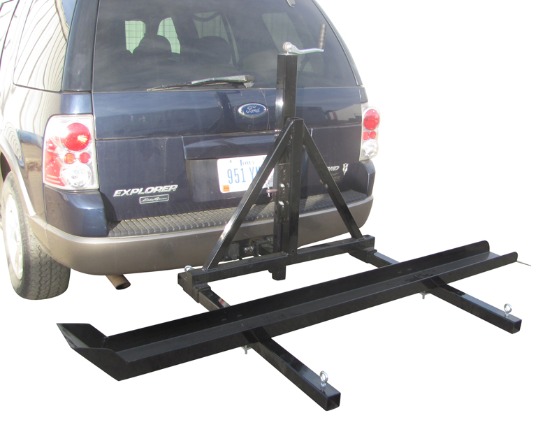 #RHDC1 SHOWN CRANKED UP TO TRAVEL POSITION
Easy crank handle, 3/4" heavy duty drive shaft that spins on radial needle bearing for easy crank up and down. Hand crank is mount on a swivel so you can make 1/2 turns to avoid any spare tire or obstructions. Units can also be run up and down with a 1/2" cordless drill.
#RHDC1 & RHDC2 RECEIVER HITCH CARRIERS
$895.00 - #RHDC1 - SINGLE RAIL CYCLE CARRIER - INCLUDES DELIVERY UN-ASSEMBLED 48 STATES
$995.00 - #RHDC2 - DOUBLE RAIL CYCLE CARRIER - INCLUDES DELIVERY UN-ASSEMBLED 48 STATES
#RHDC1 CADDIE SHOW WITH SMALL STREET BIKE
Great for scooters, dirt bikes & smaller street bikes. Unit tested to 500 lbs. 2" draw bar requires a 2"x2" receiver hitch. Unit lifts 18" and jack can be locked down in a high , medium or low position.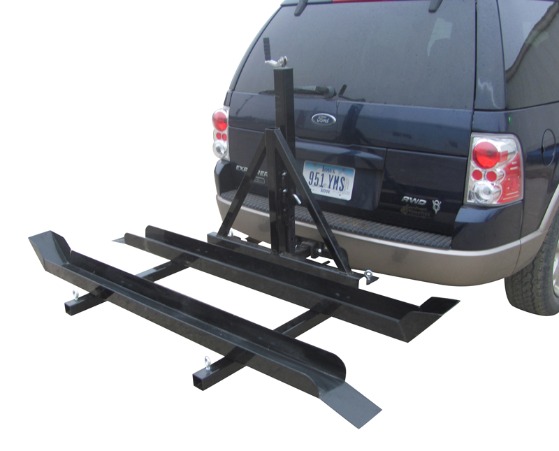 #RHDC2 CADDIE SHOWN WITH 2 CYCLE CHANNELS
#RHDC2 Model is the same as our #RHDC1 except it has 2 - 5" wide by 72" long cycle channels and meant to carry 2 dirt bikes, scooters or mopeds.
#RHDC1 & RHDC2 CARRIER SPECS

* Both units fit standard class #3 & #4 receiver hitches with a 2"x2" opening. Always check you receiver hitch capacity.
* Unit has an adjustable frame with will adapt to varying hitch heights from 14 to 22 inches.
* Caddie has a high medium and low adjustment with locking pin.
* Built in jack lifts 18 inches
* Unit cranks down to ground level for easy 1 man loading.
* Units cranks up and locks for road travel. Unit cranks the same as a tongue jack on a boat trailer does.
* #RHDC1 has a 6" wide x 80" long bike channel. channel can mount aimed to the left or right.
* #RHDC2 has 2 - 5" wide x 72" long bike channels, channels can be mount aimed to the left or right.
* channel spacing is adjustable fore and aft
* 4 tie down points , with adjustable length carrying arms.
* Black powder coated finish
* For medium to small vehicles air shocks my be required
* Heavy duty square tubular construction. Weight 135 lbs.
Feel free to call us at 712-439-3300 with any questions or to order.